High End Packaging now at your finger Tips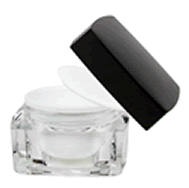 Take your packaging to the next step. Have you been looking for a package for your high end skin care products. One thing that has always been just out of reach to the small business owner is glamour packaging. Very few suppliers are able to offer them due to the high purchase quantities required to bring them in. To obtain these high end packages suppliers usually require you to purchase 10,000+ of this specialty packaging. So in the past this has always limited the very nice packaging to large companies only. It is now becoming common knowledge that the small business can make, or purchase, and then offer to their customers, high end products that can compete and even surpass the products being offered by these large companies. Now we are happy to help you complete your high end product offerings in a high end package. This is just the first set of high end cosmetic and skin care packaging that we'll be offering, so keep watching as we make it easier and easier for you to take your company, and its offerings, to the next level.
Ingredients To Die For is very pleased to bring you, our new Acrylic Square Jar Clear w/ Black Phenolic Cap, 2 high end packages for your skin care line. We offer a 30ml and a 50ml size (1oz and 1.76oz), these are the perfect sizes for facial products.
So what is stopping you from making your package stand out? These packages are not inexpensive but consumer tracking has proven that when you couple high quality cosmetics with high quality packaging they will buy it because that market is looking for the overall presence and expect a high end look. When you put a $20.00 product into a $.50 package you, first, attract the $.50 customer because consumers still have the "You get what you pay for!" mentality. If your eye cream is too inexpensive then the consumer will assume that it is not effective, but we all know that that is not necessarily the case. You may be able to counter, and correct, this consumer mentality when you are speaking to each customer but you won't be able to affect your products shelf presence, the package, and branding, will need to do this for you and speak for itself. These large companies have determined, and our focus group (you, our customer)agrees, that spending the money on a high end package to improve that shelf presence is money well spent. The consumer perception will be that your product is more effective and of higher value based on it's shelf presence. There is a reason why the large companies are spending a ton of money on high end packaging, first to make their product stand out and then to convey confidence to the consumer that their product is a quality product. When it comes to retail sales, whether we admit it or not, consumers reach for a package that looks nice, they then read the label to see if the ingredients are quality and then they smell it. With so many items on the shelf, your products will need to stand out. If your product looks like all the other products, your opportunity to reach your target market is seriously impaired. You need to make your product stand out with packaging, a good label and a nice fragrance, you have to make the consumer want to pick up your product.
How will the consumer know how great your product is if they don't pick up your product and read about it. So, if now is the time for you, and your company, and you're reaching out to meet the demands of the high end, nutraceutical consumer, we, at Ingredients To Die For are here to help you take your products to that next level.
Acrylic Square Jar Clear w/ Black Lid 50ml
Acrylic Square Jar Clear w/ Black Lid 30m
No feedback yet