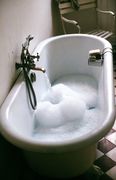 A long awaited replacement for our old surfactant systems is finally here. We set out to create a natural system to meet the demands of today's more educated consumer and their desire for more healthy product's while still creating a superior product that will be competitive on the market. We have done just that with our new line of Nature Wash products. We have created 7 different Nature Wash products from a general hand / shower gel to products that target specific needs and desires. Made from naturally derived coconut and sunflower seed as the basis, then plant derived actives to address the more specific issues. We wanted a product that is all natural to meet the demands of today's knowledgeable consumer and this product is it.
Meet the needs of today's sophisticated consumer with our new Nature Wash surfactant system - made with vegetable surfactants to cleanse without stripping the skin and hair of its natural oils, enhanced with conditioners to leave the skin silky soft and the hair fresh and bouncy while still being easy to fragrance and bottle and still meeting the criteria for natural products.
To go long with the Nature Wash product we have created a Pearl Paste that you can add to any one of the washes below to give your product that pearlized look.
Nature Wash -an all purpose cleansing system for head to toe use, designed to leave the skin silky soft even through repeated hand washing and the hair soft and bouncy - even chemically treated hair.
Nature Bubbles - formulated for longer lasting, lighter bubbles that will leave your skin soft and hydrated.
Nature Wash Soothing - made with aloe vera to address the needs of dry, sensitive and damaged skin.
Nature Wash Detox - made with seaweed and algae to address the needs of environmentally stressed and congested skin.
Nature Wash Hydrating - made with the lactylates to address the needs of dry and dehydrated skin or as a hand wash for dry, rough hands or excessive hand washing.
Nature Wash Refining - made with our new natural fruit acid blend "Complexion Renewal" and salicylic acid to address the needs of acneic and problem skin.
Nature Conditioning Shampoo - made with the lactylate for their unsurpassed moisturizing properties, panthenol for repair and luster, glycerin and soy protein to attract and bind moisture and our new vegetable derived conditioner to provide a luxurious feel to the hair during and after use.
Pearl Paste - designed for the Nature Wash, to allow you to give the bases that creamy pearl or white look by just adding the pearl paste to the wash...cold processed.