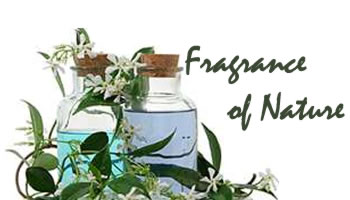 Hydrosols, also called Floral Water or Distillates, were once considered to be the by-product of the distillation of essential oils but are quickly becoming a staple in the bath, body and skin care industry.  Hydrosols are no longer just used in Aromatherapy as it has been discovered that Hydrosols are a powerful tool for delivering their activity through cosmetics.  Hydrosols have now earned respect as an important botanical ingredient in products ranging from natural toners to fragrance mists to replacements, for at least a portion, of the water phase in emulsions.  There are many growers who now distil specifically for the hydrosol and these are the hydrosols that we search out.
Hydrosols, Floral Water or Distillates, contain the water soluble components of the plant and therefore have, much more gentle but, similar properties to the essential oil.  Hydrosols have a pH range that makes hydrosols ideal for skin care and used appropriately Hydrosols can help to restore and maintain the acid mantle, offer anti-inflammatory activity, and help to heal the skin....no matter which ones you choose the result is luminous, healthy, radiant skin.
Hydrosols, Floral Water or Distillates have a fragrance that is light and delicate, but similar to the essential oil, distilled from the same plant, making hydrosols an excellent choice for fragrant hair and body splashes or sprays, as well as for room and linen sprays.  Hydrosols are a great addition to skin, and body, care products when you want to add their therapeutic activity to your product line.  Hydrosols are also an easy way to add a delicate natural fragrance.  To maintain more fragrance try using the hydrosol, as a portion of the water phase, and adding it at cool down, we have found that this method will maintain the fragrance very well.  Your formula must be stable though, otherwise adding hydrosols, or any other liquid, at cool down may cause some separation and require you to make some modifications.
All of the Ingredients To Die For Hydrosols, Floral Water or Distillates, are pure and natural, distilled from non-sprayed plant material, and contain no additives, with the exception of a very small amount of natural food grade preservative in those that are highly prone to fungus or bacteria.  We believe in the beauty, and power, of natures botanicals and know that you feel the same or you wouldn't be shopping for Hydrosols, Floral Water or Distillates..  We let that belief in purity be the driving force when we source them, so you can use them with the confidence of knowing that Hydrosols are pure, natural and safe.  There are many suppliers, and retailers, who advertise Floral Water, or Hydrosol, or even Distillates and their product is simply a mixture of essential oils in water (with solvents or emulsifiers), or even worse alcohol and water extractions of the plant material ... these are flower waters and infusions / extracts, they are not true Hydrosols, Floral Water, or Distillates ... as a true Hydrosol, Distillate or Floral Water is the steam, condensed back into water, collected from the steam distillation of the plant material and as such they have therapeutic properties, and chemical components, very different from essential oils in water or infusions / extracts. 
Hydrosols are delicate and should be stored cool, tightly sealed, and protected from heat and light.  We no longer preserve our Hydrosols because our customers wanted the freedom to choose their own preservatives.  We recommend that all Hydrosols be further protected with a adequate preservative to protect the integrity of the hydrosol and to ensure safe use. 

All Ingredients To Die For hydrosols are the pure distillation and may contain plant material that was too fine to get caught by basic filtration.  This is normal and does not affect performance.  You may wish to filter them again if that is undesirable for your application.
For the specific therapeutic activity of hydrosols visit the individual pages.